West Side Trail
Many of us in Fall City have seen traffic volumes increase along SR 202 - concerning for our residents, and children who walk along the roadway shoulder from neighborhoods/schools into downtown. To improve safety, the Fall City Metropolitan Park District is in preliminary design of a proposed separated trail to be located on the south side of the SR 202 (SE Redmond Fall City Road).
Project Details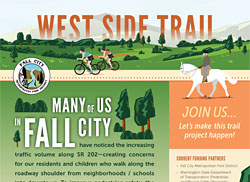 .
Take our Survey
We'd appreciate your comments about the Preliminary Design.
After reviewing the information about the trail, please share with us your personal opinions, ideas, and comments about the preliminary design of the West Side Trail by taking our survey:
Project Overview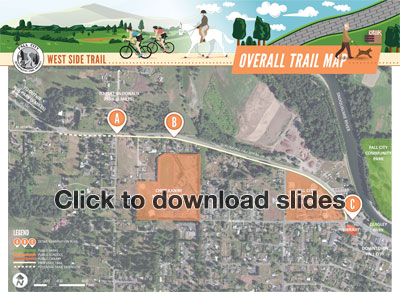 Community Input
A
Community Open House
was held on Thursday March 23, 2017. To read the announcement, please
Click Here
.
History of the West Side Trail project
Click here for a copy of the grant application.
The WSDOT Highways & Local Programs Community Design Assistance Manager requested that Commissioner Harris join a panel discussion at both the Washington APA Planning Law Conference (5-15-13) and Revitalize Washington Conference (5-16-13) to share his "local agency experience" of coordinating with WSDOT to develop a trail project. His presentation about the concept of a "SR 202 or West Side Trail Project" was assembled from information that had been previously discussed with Board members and shared with the community at public meetings.
Click here for the slides of the presentation that was made at each conference.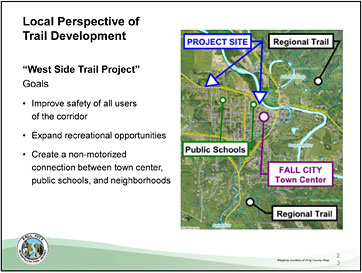 Preliminary Design Plans (60% Submittal)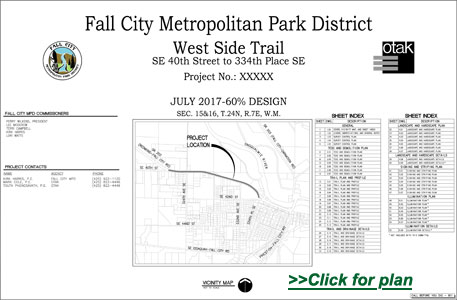 Technical Memorandums