Raging River Natural Area
The Raging River Natural Area is located on the east bank of the Raging River two miles south of Fall City. King County acquired the 52-acre Natural Area through the Forest Legacy Program to help preserve and protect water and habitat quality in the Raging River and the Snohomish Basin.
The Raging River provides high quality spawning habitat for large populations of five anadromous salmon species. The heavily forested Natural Area provides wildlife corridors and protects aquatic habitat and water quality. Numerous terrestrial wildlife are present including elk, deer, and bear, and a diversity of resident and migratory bird species.
The Raging River Natural Area is adjacent to a section of the Preston-Snoqualmie Regional Trail and other parcels of public land. As such, passive recreational activities such as hiking and bird watching are permitted.
Location:
Preston Fall City Rd and SE 68th St Preston WA 98024
Driving Directions:
Google Maps
Raging River Natural Area Forest Stewardship Plan
Download (PDF)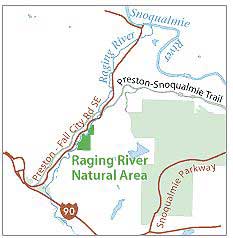 Please respect the Natural Area Rules
This site contains sensitive areas.
Please help protect this fragile resource by observing the following:
King County code chapter 7.12 - rules for use of facility
No hunting or shooting.
Overnight camping and/or campfires prohibited.
Please don't litter. Pack out your trash.
Cutting, picking or destruction of trees, plant life or property is prohibited.
No motorized vehicles.
Please stay on trail.
Unauthorized trail construction prohibited.
Removal of any County property is prohibited.
Alcoholic beverages prohibited.
All fireworks prohibited.
Please keep pets on leash.
This area closed after dark.