Dog-friendly (on-leash), kid-friendly, historic, snow-free winter hikes, bike friendly, (no motorized bikes/vehicles)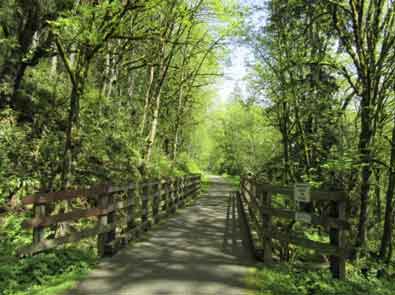 The Preston-Snoqualmie Trail is one of the Eastside's oldest paved rail trails, yet it remains off of the radar to many hikers and runners. Wedged between more popular parks and trails is part of the reason. The other is that the trail ends abruptly with no view or connection to a town or other trail.
Start from near its western terminus and head east. The trail, a former rail line for the Seattle, Lakeshore and Eastern Railway (from which Seattle's popular Burke-Gilman Trail was also born) begins a slow descent skirting below a handful of old homes from Preston's early mill town days. Pass a path and stairway on the right leading to the 1939 WPA built Preston Community Center. The trail then leaves the small town traversing steep lush forested slopes above the busy Preston-Fall City Road. Tall cedars, cottonwoods, maples and Sitka spruce line the way.
Unfortunately the old trestle once spanning the Preston-Fall City Road and the Raging River is long gone. So here the trail leaves the rail bed and steeply drops to cross the busy road. Use extreme caution as drivers frequently speed through this crossing. The trail then separated by a concrete barrier follows aside the road for a short distance before following the old road for a short distance. Cross the Raging River–then follow the road again for a short distance.
The trail then climbs via short switchbacks back to the rail bed. The way then crosses a creek via a high old trestle and curves around a hillside. It crosses Lake Alice Road SE (trailhead) and traverses wooded slopes above the Snoqualmie River. Pass some limited views of the valley and a couple of trails leading to neighborhoods within the Snoqualmie Ridge development.
The trail continues to its end at a gate. Here find three benches that used to look out at Snoqualmie Falls, vegetation blocks the view most of the year.
Trailhead Locations/Directions:

Distance from High Point trailhead to Snoqualmie Falls Overlook: 11.0 miles roundtrip, 500 feet elevation gain/loss
Dogs: On leash and we all appreciate owners cleaning up their dog poop (don't leave full bags on the trail).
Lake Alice Trailhead History: Railroad comes to Fall City